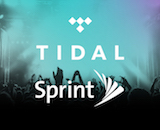 Sprint is offering its customers free tickets to Jay-Z's 4:44 tour when they sign up for a trial membership to the Tidal streaming service. This deal marks a further tightening the bonds between the music platform and the mobile telecom following Sprint's acquisition of a 33% stake in Tidal at the start of the year.
New or current Sprint customers who sign on for a six-month trial membership and add a line of service are eligible for one ticket, while those who activate two or more lines along with the Tidal trial can get two tickets. The deadline for activation is August 26, and only select concert dates and locations are included in the promotion.
Jay-Z, hip-hop legend and owner of the Tidal platform, has worked closely with Sprint in the launch of his latest album. 4:44 marked the first shared exclusive for the two parties, with new Sprint customers getting a free trial of Tidal and access to the highly-anticipated album.