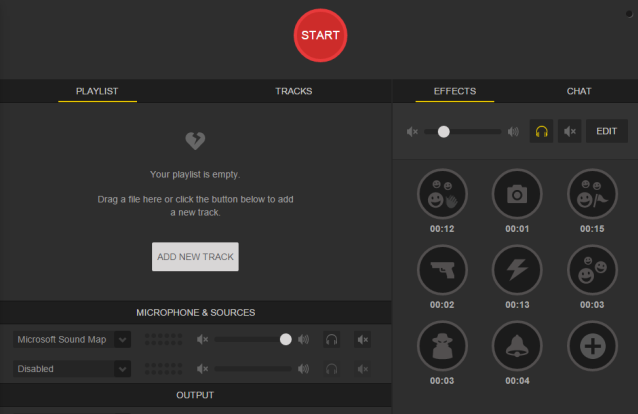 Podcasting and live-audio platform Spreaker has released Spreaker Studio, an application for Windows and Mac computers. The intent is to provide an easy-to-use software environment that replaces a four-channel mixer in a podcast studio. Or, in the words of Francesco Baschieri, Spreaker founder and CEO, "to make podcasting as easy as blogging."
For podcasters whose studio consists of a smartphone, Spreaker Studio is a huge step upward, and is offered free of charge. Even for more sophisticated recording rigs, this application neatly solves a couple of challenges faced by many home producers. (Download page here.)
We used Spreaker Studio meta-style to record a short review of Spreaker Studio:
The program furnishes an interface to Spreaker's two main program offerings: live streaming, and offline recording of traditional downloadable podcasts. A built-in sound effects library provides 10 effects of varying usefulness — the main feature there is the ability to expand the library by adding recorded effects owned by the podcasters.
Perhaps most important, certainly to some producers, is Skype integration — it allows phone calls to be handled inside Spreaker Studio. Call-ins represent a daunting challenge for many podcasters. Generally they must be recorded separately and edited in later. Putting calls into the recording environment can be a hallelujah feature for budget podcasters who conduct interviews.
Our impression is that Spreaker Studio is well thought-out, polished, has outstanding usability, and contains a few essential features (especially Skype integration) that could drive podcasters to try it.