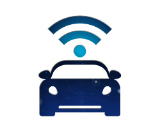 Connectivity may be increasing in importance for prospective car buyers. AT&T Drive Studio and Ericsson partnered for a survey of people who are likely to buy a car in the next three years. The results showed that among the U.S. respondents, 62% were aware of the term "connected car" and they saw the wi-fi hotspot capability as the top feature they'd be willing to purchase for their vehicle.
The survey's global results – which include people from Germany, Brazil, Mexico, and China in addition to the U.S. – found that 75% of respondents considered connected car services an important feature in their next purchase. Important enough that 78% of buyers said they would delay buying by a year to acquire a car with those services from their preferred manufacturer.
"It's great to see that more drivers understand what a connected car enables them to do," AT&T Mobility Senior Vice President Chris Penrose said. "With this increased awareness, we believe you'll see adoption of integrated wireless connectivity in the car continue to take off."
Ericsson and AT&T collaborate on the AT&T Drive platform, a cloud-based connected car service.