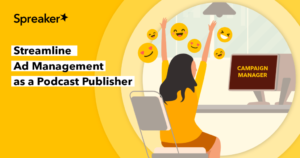 Podcast host and technology company Spreaker has launched the Spreaker Campaign Manager, a tool which allows podcasters to:
set up their own campaigns with advertisers
analyze those ads and measure how they are reaching desired listener targets
precisely insert ads
evaluate campaign performance
continually and freshly monetize back catalog
The upshot of this this suite is to have a more direct relationship with advertisers while increasing the podcaster's control over ad placement.
The announcement, posted on the Spreaker blog, includes a couple of use cases. One describes executing direct deals with agencies and advertisers. Another flips the equation, allowing self-promotion — for example, if the podcaster wants to advertise a live event or new book.
All this is obviously geared to podcasts successful enough to need ad trafficking assistance and optimization. Spreaker describes the overall use case for the Campaign Manager like this: "Now those advertisers are knocking down your organization's door to be included in your catalog of podcasts, but your team is struggling to manage the campaign and maximize your earnings."
.