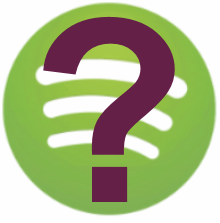 Spotify has a colorful new marketing campaign underway in New York City that could be good news for Prince fans. Purple banners with just the Spotify logo are now on display in the Union Square subway station, leading to speculation that the streaming service will soon have access to Prince's music.
Prince, one of the many iconic entertainers who passed away last year, was notoriously averse to much music tech, and had removed his catalog from most streaming platforms in 2015. His last album releases were shared to Tidal, but with his death, the question of who will control the rights to his vast catalog is uncertain.
Billboard cited sources who said at least some of Prince's music would be available for streaming by the time of the Grammys. Representatives from the parties in question have not commented on the rumors or the meaning of the purple Spotify banners.