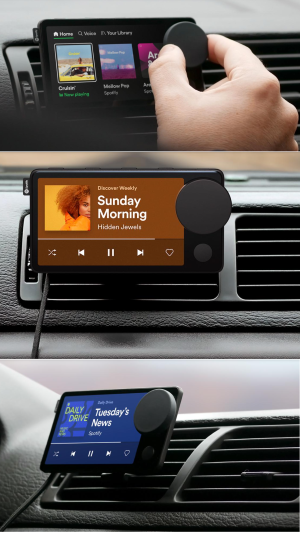 Spotify Car Thing is for sale … almost.
In April of this year spotify announced Car Thing, a dashboard device for streaming Spotify through the car's audio system. Our coverage interpreted this as a clear challenge to radio and the commute, which were already stressed by Covid. The product also seemed to refute the Android Auto lifestyle, at least for listening to Spotify — Android Auto is a full-featured connection of the Android OS range of voice control, navigation, texting, phone calling, and audio.
All to say that Car Thing is for people whose primary (or only) phone-to-dashboard integration purpose is listening to Spotify. And especially for drivers whose cars don't have smart dashboard features. In that use case, Car Thing replaces plugging the phone into the AUX jack — and many older cars don't have an AUX jack.
The device is operated via knobs, or by voice with a "hey Spotify" command.
Car Thing was given away in a testing period, which we now learn has ended. The gadget will soon be for sale ($79.99). The testing sign-ups have been converted to potential buyers. No release date is given. You can apply to buy HERE. But don't bother if you're not a Spotify Premium subscriber; that is a requirement.
.