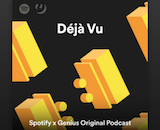 Spotify has been making strides into the podcasting space, and its latest new creation comes in collaboration with Genius. The lyrics-focused company, previously named Rap Genius, is working with Spotify on a podcast called Déjà Vu. The first series will have eight episodes, and new ones will debut on Spotify every other Wednesday. Each show focuses on a single performer, examining "the ways that modern hitmakers connect to the iconic musicians from the past who paved the way."
This isn't Genius' first work with Spotify. The company powers the streaming service's Behind the Lyrics feature.
Spotify has had podcasts on its platform for just over two years. The company announced last February that it planned to work on original podcast production.