Spotigate? Roganomics? Today we learn that Spotify and its headline podcaster Joe Rogan are maneuvering to get in front of apparent accelerating damage resulting from a recent episode of The Joe Rogan Experience which created public outcry over statements about Covid vaccines. Spotify CEO Daniel Ek and Joe Rogan each broke his silence on the controversy. Ek clarified and disclosed; Rogan apologized and promised.
All this after Neil Young removed his music catalog from Spotify, and Brene Brown ceased production of her two Spotify-exclusive podcasts. And it is happening two days before Spotify's Q4 earnings call with investors. Spotify stock is on the skids — but we must note that it has been sliding all year, and we look forward to the company's statements Wednesday (Feb. 2).
Daniel Ek's 700-word posted statement acknowledged a problem with his company's lack of public guidelines for content.
"We know we have a critical role to play in supporting creator expression while balancing it with the safety of our users." –Daniel Ek, CEO, Spotify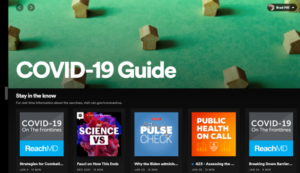 As rectification, Spotify has published the "Spotify Platform Rules" which reportedly govern the company's decisions about content acceptability. (They are HERE.) One bullet point in that documents which might have been added very recently: "We are working to add a content advisory to any podcast episode that includes a discussion about COVID-19. This advisory will direct listeners to our dedicated COVID-19 Hub." (The hub is HERE.)
Joe Rogan pitched into damage control as well, posting an Instagram statement. He acknowledges the controversy while defending the premise of his podcast, which is to speak with personalities across an exceptionally broad spectrum of occupation, viewpoint, and opinion.
"I do not know if they're right. I'm not a doctor; I'm not a scientist. I'm just a person who sits down and talks with people, and has conversations." –Joe Rogan
.