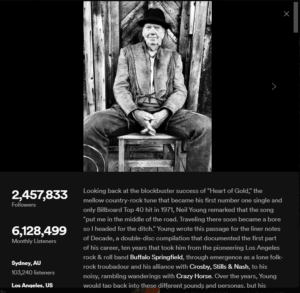 In a well publicized flare-up, Neil Young hates Joe Rogan and blames Spotify. Young delivered an ultimatum: Ditch Rogan or lose me. Young is gone. It was quick, too, with no reported diplomatic attempts.
That outcome is unsurprising considering that Spotify paid Joe Rogan a whopping $100-million licensing fee to carry The Joe Rogan Experience, by some measures the world's most successful podcast. Spotify is not in the bank to carry Neil Young.
"We regret Neil's decision to remove his music from Spotify, but hope to welcome him back soon," said an anonymous Spotify spokesperson who was martialled to deliver that cool-tempered message. (A few degrees warmer than, "Neil who?")
Spotify competitor SiriusXM announced it would revive the "Neil Young Radio" station.
Young posted a no-regrets letter in neilyoungarchives.com explaining his determination and praising his record company (Warner Brothers Reprise) for supporting him and actually accomplishing the removal. In that letter, Young says that Spotify generates 60% of his catalog's worldwide streaming.
Spotify, meanwhile, says that over 20,000 podcast episodes have been removed from the platform after violating what the company calls "content policies" related to Covid 19 information. As Hot Pod notes, nobody seems to know what the exact content policies are.
So, at the end of Round 2, we await further news.
.