James Cridland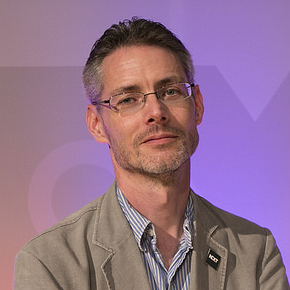 , radio futurologist, is a conference speaker, writer and consultant. He runs the media information website media.info and helps organise the yearly Next Radio conference. He also publishes podnews.net, a daily briefing on podcasting and on-demand, and writes a weekly international radio trends newsletter, at james.crid.land.
---
Liza Tarbuck wants to get rid of the news in the middle of her BBC Radio 2 show. This got Matt Deegan thinking about the news bulletins in radio.
I've goaded Richard Horsman enough, I hope, into reheating his blog to make a response.
Radio 2's news bulletins have always seemed to me like the land time forgot: they sound identical to the news bulletins I remember when, at the age of 6, I was driven to school listening to Terry Wogan. The bulletins seem overly wordy and formal – "here's our Political Correspondent, Ian Watson" – and you can see that they may not help maintain a feeling of energy and positivity on-air.
I'd also have a question about whether an hourly news bulletin are really required at 7pm on a Saturday night; but I went to have a listen to Feb 22's bulletin, which was:
0:03 Blackmailing MPs
0:58 Man charged with double murder
1:18 Anti-vaccination protests
1:58 New COVID cases across the UK
2:10 Everton v Aston Villa report
2:41 UK skier wins gold medal
2:55 Weather
Now, I'm not a radio journalist, but goodness, these stories are long. 55 seconds on the top story of blackmail; 31 seconds on a sports-ball game (which if you cared about you'd be listening elsewhere anyway); and nothing particularly positive apart from the sliding-sport gold medal. Apparently it's the first gold medal that a British sliding-person has ever won in that competition. Go sliding!
(Also, nice to hear, explicitly, that the man charged with double murder was a foreigner. He was from Romania – the only fact about the person that we learnt. And we wonder why Brexit was a thing.)
At The Pulse, my programme director Steve Martin used to rabbit on about "the world of The Pulse" to the news team: urging them to remember who's listening and what their shared interests are. One of them – they all listened to the same radio station.
I gather Clive Dickens at Absolute Radio also tried to shape the news bulletins a little, asking for news that accentuated positive elements of stories. Not sure how popular that was with the journalists. But, I think that's quite possible; when I ran a hyper-local news website for a little while in the mid 2010s, I learnt that "historic pub to close" might be a bigger story for clicks, but "award-winning Turkish restaurant to move into the Coach and Horses" was a little more positive.
In 2018, David Spencer spoke about radio news at Next Radio. News consumption has changed, he said, but the style of radio news bulletins haven't.
There's probably something in that.
---
.