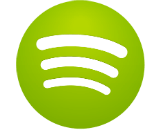 Spotify has reportedly canceled its plans to expand into Russia. The streaming service had hired former Google exec Alexander Kubaneishvili to lead its push into the region, but he told Russian outlet RBC that the company is no longer pursuing that market.
"There are several reasons — the economic crisis, the political situation, new laws and the the regulation of the internet," he said of the change in plans. Kubaneishvili also said that he is slated to leave Spotify since Russia is no longer of interest.
Spotify completed several other notable expansions in 2014, including opening in Brazil and in Canada.