Spotify released quarterly earnings last night. In the investor call, the Q&A session began as many observers probably guessed it would: "Our first question today is going to come from Rich Greenfield on Joe Rogan." With the well documented Neil Young withdrawal of music from the service in protest of Joe Rogan's podcast, nearly colliding with the earnings report, the issue was bound to be top of mind among investors.
Here was the exact question: "You've clearly changed your public stance given artist pushback to his content. Is it a slippery slope in censoring content on the platform and have any advertisers left Spotify in protest?"
CEO Daniel Ek chose his words carefully, and his message could be characterized as a calm and nonspecific acknowledgement of the issue which has roiled social media for a week. "I know this issue has been top of mind this week, but I think it's important to take a step back," Ek said. "We're trying to balance creative expression with the safety of our users." He noted the complexity of the issue, briefly discussed the public-facing content policies, and bragged about Rogan's audience and the advertising potential there. (He was talking to investors, after all.)
One more question came from the investor audience, asking about additional steps to contain fallout and prevent churn. "We don't reflect any churn from the recent JRE [Joe Rogan Experience] thing," Ek said. "In general, what I would say is it's too early to know what the impact may be." Ek acknowledged that the company should have publicized its publishing policies sooner."
Meanwhile, Spotify's gross margin was up 26.5% for the quarter, a mighty jump that credits, in part, "a favorable revenue mix shift towards podcasts."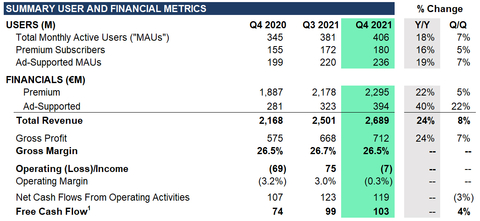 .