"So, by the end of the year, we had more than 100 million tracks on our platform and more than 5 million podcasts and more than 300,000 audio books being enjoyed by almost 0.5 billion listeners." –Daniel Ek, CEO, Spotify
And here are the financials for Spotify's just-released Q4 2022 earnings: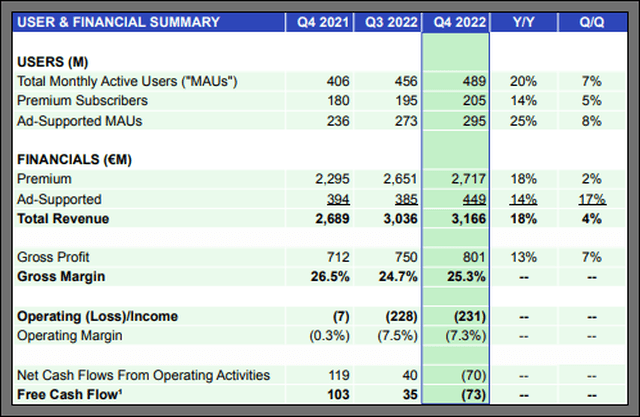 That's from the company's Q4 earnings page.
Naturally, Daniel Ek could not deliver opening remarks without referencing the recent layoff sweep in which six percent of Spotify's global workforce was laid off. Investors on the call already knew about the workforce reduction, so Ek didn't drill into it unnecessarily or with any precision. Well, he didn't mention it specifically at all. But he did fall gently on his sword with a couple of remarks:
"But things change, and the macro environment has changed significantly in the last year. And in hindsight, I probably got a little carried away and overinvested relative to the uncertainty we saw shaping up in the market. So, we are shifting to focus on tightening our spend and becoming more efficient."
However, the CEO emphasized, Spotify's overall strategy will not change.
"We will continue to work to build the platform of the future, and that will take investment in new opportunities that we outlined like podcasts and audio books. And if anything, thanks to our position in users and subs, this should allow us to both increase revenue per user over time as well as improve our stickiness with consumers even more. But going forward, we will do it with an intense focus on efficiency, and that marks a pretty big shift in how we will act."
---