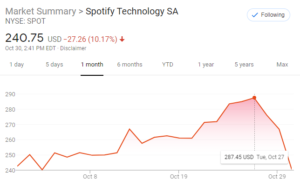 After Spotify's Q3 earnings call this week, SPOT stock demonstrated investor unhappiness with some aspects of the financial performance, along with a wider midweek market downturn. This post digs into the call details to uncover several key points related to content metrics, audience size, and podcast strategy.
"We still believe we're early days in our growth." –Daniel Ek, CEO, Spotify
Spotify now serves 320-million users and 144-million subscribers.
About 60% of Spotify Premium subscribers started in the Spotify Free tier.
Spotify has paid over one-billion dollars to rights holders in each quarter of 2020, and expect to hit that number in Q4.
Quarter-over-quarter, Spotify had 20% more podcasts and 13% more music releases in Q3.
Spotify exclusives accounted for more than 19% of all podcast listening on Spotify.
Joe Rogan is described as a success story. This from CEO Daniel Ek: "Overall great success so far. I think the real test will come, however, when the podcast becomes exclusive at the platform. But we're very encouraged with the launch so far. It's very much been an international hit, which may have been a little bit of a surprise."
In answer to an investor's question, Paul Vogel made an interesting statement about the development of podcast advertising technology: ""I think for us, the innovation we're bringing into the market and the ecosystem I think is really going to be helpful. I think there's been very little innovation, particularly on the podcasting side, in terms of how to better target advertising and allow creators to actually monetize their product in a much higher way." Many ad tech companies about whose products we report every day would debate Vogel on that point.
.