In Spotify's public-facing Q3 earning summary, the word "music" is used 10 times; the word "podcast" is used 17 times. That's not to say that podcasting is a more important revenue driver than music, but the category certainly led the discussion in today's early-morning investor call.
In the financial realm, Spotify reported all positive numbers for year-over-year and quarter-over-quarter growth of users (all categories), revenue, and profit: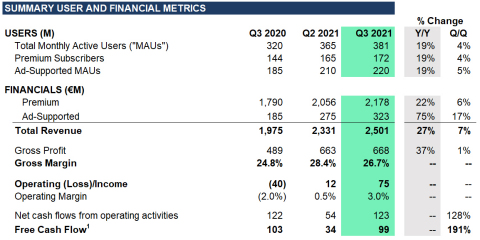 We make special note of the user growth in Q3 which was nearly identical across both comparison periods and both types of user. Spotify's total global user base is now 381-million people, 172 of whom are subscribers to the fully interactive Premium service. (210 people use the free semi-interactive platform which plays commercials in the music streams. (ALl users have access to podcasts, which are generally supported by ads.)
Year over year, Spotify grew the user base 19%, and the uptick from Q2 is 4% for Premium and 5% for ad-supported.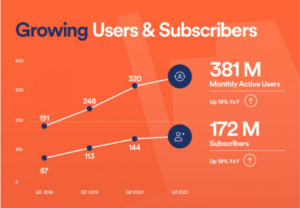 Podcasting
"The Gross Margin improvement reflected a favorable revenue mix shift towards podcasts." –Spotify
Spotify notes that its podcast business experienced double-digit growth of average CPM. The official press release points proudly to "strong double-digit Y/Y growth at existing Spotify studios (The Ringer, Parcast, Spotify Studios, and Gimlet) along with the Megaphone acquisition and the exclusive licensing of the Joe Rogan Experience, Armchair Expert with Dax Shephard, and Call Her Daddy."
Of importance is Spotify's addition of podcasts to the Spotify Audience Network (RAIN coverage HERE). The company says that one in five advertisers are participating in that addition.
.