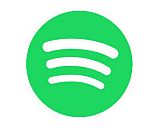 Investment bank (and Spotify investor) GP Bullhound released a new paper projecting that Spotify could be valued at $20 billion by the time the streaming service goes public. It also projected subscriber growth reaching 100 million by summer of 2018.
"Given that Spotify's growth continues and that emerging market growth keeps average revenue per premium subscriber relatively in shape we envision that Spotify has a long term potential of being valued at $100 billion," the investment firm said. As of July 2017, Spotify had 60 million subscribers.
Not bullish enough on user growth? The firm reportedly also projects a Spotify user base of a half-billion (500-million) by 2020, a few short years from now, with 200-million of those users being paying subscribers.
The critical context for these statements is that GP Bullhound is an investor in Spotify. Goldman Sachs, which has also invested in the company, made a projection that streaming revenue could reach $34 billion by 2030. There is nothing wrong about an investor being bullish about its investment, of course, but knowing the relationship is useful context when it comes to financial projections. Goldman Sachs reportedly sold more than $75 million in Spotify stock in August, but is still advising the music company in planning the next stage of its financial future.
Spotify has been building plans for a direct listing on the New York Stock Exchange, or possibly a more traditional IPO, for months.