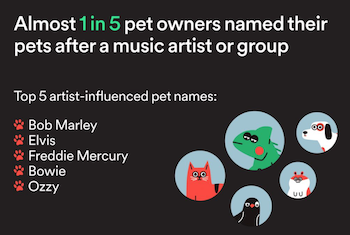 Spotify is letting the fur fly. The company has launched a fun new tool that will let pet owners create playlists dedicated to their pets.
The company compiled an infographic with the results from surveying 5,000 pet owners in the U.S., UK, Australia, Spain, and Italy. Nearly three-quarters (71%) of the respondents said they have played music for their pets, and 80% believe that their pets enjoy tunes. The musical connections between human and animal go even deeper. Almost 20% of pet owners named their pet after a musical performer, 69% sing to their pet, and 57% dance with their pet. Many of the respondents opined that music could help their pets relieve stress, boost their happiness, and keep them company.
Spotify's new tool can design playlists tailored to a dog, cat, iguana, hamster, or bird. The streaming service will collect some personality details about the pet in order to set the tone of the playlist. It will combine those traits with the owner's listening habits to create a collection that both can equally enjoy.