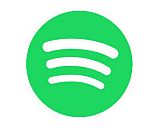 Spotify for Artists has made a few new additions to the Artist's Pick feature. This section, which debuted last year, allows a performer to select music to highlight at the top of their Spotify profile with accompanying text. Artists have been using this space to make political statements, highlight new projects, or share personal favorites.
Now, Spotify is adding the ability for performers to further personalize their Artist's Pick with an image. The section is also adding an option to share tour dates. That information will be tailored to each listener's location rather than including an entire itinerary.
Artists can access these additional options either on the web version of Spotify for Artists or the mobile app.