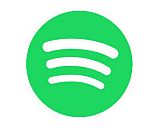 Spotify has shared a financial outlook for 2018, and the projection includes some very large numbers for the streaming service. In the first quarter of 2018, the company said it expects to see between 168 million and 171 million monthly active users, with paid subscribers numbering 73 million to 76 million. The company projected an operating loss of €50 million to €80 million.
For the full 2018 performance, Spotify said it expects monthly active users to grow by at least 26% to reach between 198 million and 208 million. It also projects at least 30% growth to its subscriber base, with between 92 million and 96 million expected. The outlook included a total revenue estimate of €4.9 billion to 5.3 billion and an operating loss between €230 million and €330 million.
Today's outlook is a precursor to the quarterly financial earnings reports Spotify will be required to share once it goes public. The company has set its direct listing date as April 3.