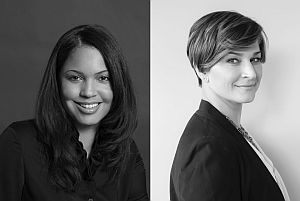 Spotify has been doubling down on its advertising business, which supports the Spotify Free consumer experience, for over a year. Through internal promotions and external research studies, the company has made it clear that the free-listening, ad-supported platform is important to its business strategy, notwithstanding record-label pressure to move users into on-demand subscriptions.
Today brings more emphasis on the advertising business. Spotify has announced new hires and promotions within its global ad team. Danielle Lee is the company's new vice president of global partner solutions. She has worked at top brands such as AT&T, Showtime, and AOL, and joins Spotify from a stint at Vevo. She will be responsible for leading Spotify's business marketing, product marketing, and branded experience teams.
The other two appointments are focused in the Americas region. Liberty Carras Kelly is the new head of Americas sales, and will oversee revenue opportunities for the U.S., Canada, and Latin America. She has worked at Microsoft, CNNMoney, and Fox Audience Network. Finally, Brian Berner was promoted to head of U.S. sales. He was previously Spotify's regional vice president for the Midwest.
"These appointments represent a continued commitment to Spotify's free product by investing in the tools and talent that are driving our growth around the world," said Chief Revenue Officer Jeff Levick in announcing the new roles.