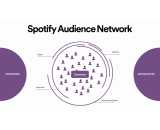 Spotify announces today that its proprietary ad network, the Spotify Audience Network (often abbreviated as SPAN), is expanding to France, Spain, and Italy. The company projects that podcast ad revenue will rise to 1.5-billion Euros by the end of this year.
Spotify serves more non-subscribing listeners (who hear ads) than Premium subscribers (who don't hear ads), but the subscription business is much richer: $2.7-billion in Q1 2023, compared to $329-million from advertising revenue. (See financials on page 10 HERE.) Spotify is nonetheless serious about the ad-driven side of the house.
Part of that effort is the self-serve SPAN ad-buying platform scaled to serve advertisers of many sizes. The current minimum spend is $250. Ad campaigns can extend across all of Spotify's catalog, and can include audio publishers which join the network, as NPR recently did (RAIN coverage HERE).
"As podcasts grow in popularity, we're continuing to invest in tools and resources that make it easier for advertisers to reach their target audiences with audio advertising, said Christine Jolly, Head of Western Europe Sales. "With the launch of the Spotify Audience Network, we're meeting a key advertiser need which is to help scale their podcast campaigns. We're excited to offer this scale across our network of fantastic publishers like BaBaBam and Choses a Savoir."
The Spotify Advertising Network launched in the U.S. in 2021.
---