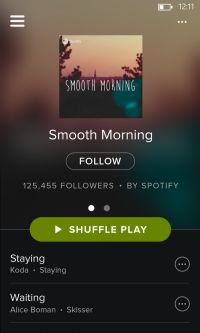 Windows Phone might be a forgotten stepchild of mobile devices, but its market share has more than doubled since 2011. Still, at 2.9% of Operating System use, developing for Windows Phone is not a top priority for most app makers. Spotify announced an upgrade to its Windows Phone app which brings beauty and essential features that Android and iOS users are accustomed to onto the platform.
The official announcement emphasizes cosmetic changes. The Windows Phone app now displays the dark design motif that desktop users have long enjoyed (including Windows 8.x users) in the downloadable desktop app. The announcement brags about "a darker theme, refreshed typography and rounded iconography." That's rather artist-geek for a press release, but the app is beautiful and worthy of the design brag.
Functionally speaking, the rebuilt app puts Your Music into the picture, an essential music-organizing feature that Windows Phone users (those who know of the feature from desktop listening) have been missing.