This week we reported on Spotify's new brand marketing campaign and name change of its advertising division. Today the company informs us that a neurological study — a kind of "your brain on Spotify –accompanied that effort.
The study was conducted by cognitive research firm Neuro-Insight, and the goal was "to break down why sound—specifically, digital audio—has such a distinct impact."
In the research results, the quality of immersiveness is the key finding that Spotify wishes to convey to potential advertisers. The study included a survey component, and something called "Steady State Topography" which belongs to Neuro-Insight.
The top-line result? "Digital audio is uniquely powerful thanks to its interactivity and personalization.1 For advertisers, that means there's a huge opportunity to have all ears on you." (See Spotify's detail of the study HERE.)
Four unique metrics were used: Engagement (the relatability and relevance of the ad), Emotional Intensity (the strength of the emotions tied to the ad), Long-Term Memory for Global Features (memories, feelings, and themes associated with the ad), and Long-Term Memory for Details (the specific message and details of the ad). Spotify says "together, these metrics paint a full picture of our ability to retain information and how we connect emotion to those memories."
To illustrate Spotify's leading performance in providing engagement of the brain, there is this: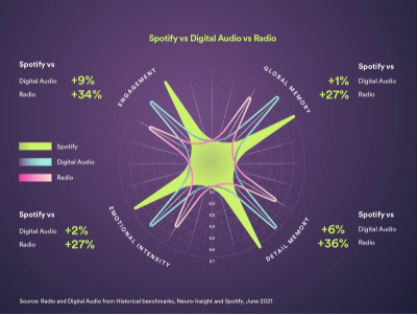 "Those qualities didn't just lift Spotify above other audio formats," Spotify noted. "Neuro-Insight's research found that the Spotify experience drove higher engagement than TV, digital video, and social media as well." IN the following graphic, Spotify is illustrated as more engaging than radio, social media, TV, and other media categories.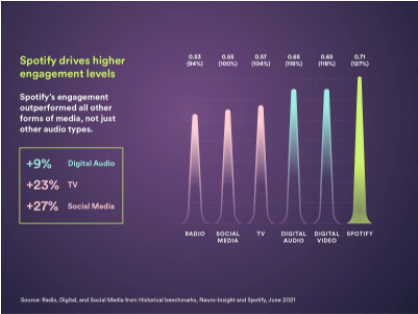 And, to tie it all back to how brand advertising might benefit, Spotify offers the following graphic focused on "brand breakthrough."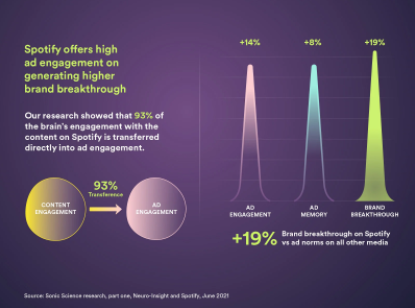 Again, go HERE for more.
.