Spotify is best known as a subscription service, but the platform serves more non-paying users to its ad-supported service. That part of the business contributes the smaller portion of revenue, but has always been meaningful to company growth and executive management.
Today we learn of a new branding campaign in support of Spotify's audio advertising business, and a name change for that business. Formerly known as Spotify for Brands, the ad business is now called Spotify Advertising. The thrust of that identification is to attract smaller advertisers to the company's mix, which has traditionally been a big-brand roster. And, Spotify is hoping to attract more podcast advertisers.
According to the Wall Street Journal (ungated HERE), the campaign will be expressed in audio, video, and social. Below is a video which emphasizes the immersion possible in a Spotify listening experience, showing users floating around in bubbles:
We have also seen a mock-up of a billboard placement: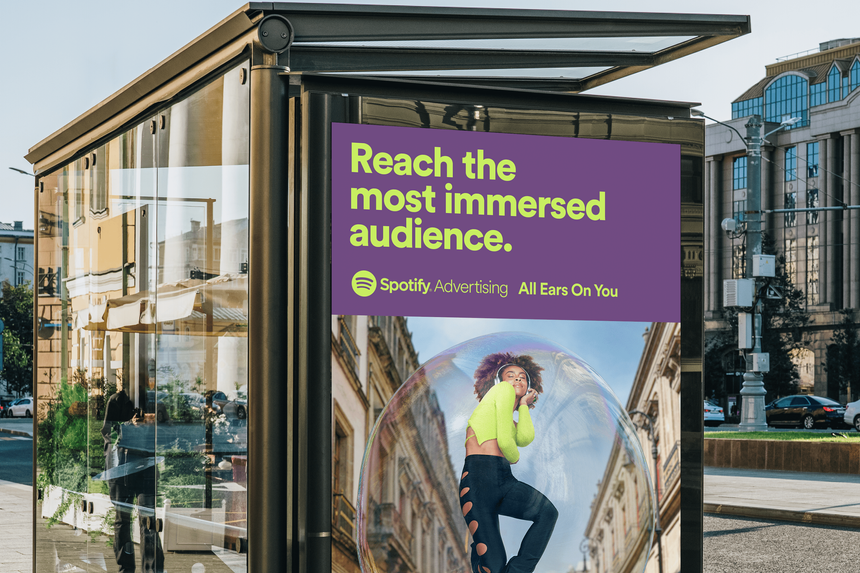 Visiting the new Spotify Advertising portal we see the initial pitch. Inclusivity is a main point: "Spotify ads are for everyone" and "Get your message heard on any budget" and "Spotify Advertising helps businesses of all sizes reach listeners as they stream what they love."
The platform pitch emphasizes Spotify's technology, enabling targeting "with precision in relevant moments across devices, locations, and formats." Ease of campaign building is also evangelized, and measurement of campaign effectiveness. To us, it looks like Spotify is pitching the Advertising division as a one-stop planning, execution, and attribution platform.
We note that the Spotify Advertising page counts 365-million users. That is true according to a recent earnings report, but at least 160-million of them are subscribers, and presumably are not part of the advertising audience.
The media campaign will run in several markets including U.S., Canada, UK, Australia, Spain, and Nw Zealand. It was created by FCB New York.
.