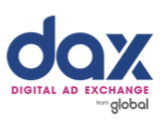 Global-owned digital audio exchange DAX is splashing a new partnership with podcast network Breakbeat Media. In the arrangement, DAX will exclusively represent audio ad sales for Breakbeat's podcast portfolio.
Breakbeat is a network built by the Hip-Hop community — specifically Dave Mays, creator of The Source Magazine, and Kendrick Ashton, Co-Founder and Co-CEO of The St. James.
Key podcasts highlighted by DAX in its announcement include Culturati: Conversations with Kierna Mayo, Don't Call me White Girl, and The Wrap It Up Show Starring Funny Marco.
DAX calls the deal "an exciting addition to the DAX podcast portfolio which already includes exclusives with Action Park Media, Evergreen and Sounder and strengthens DAX's listener base with more diverse content."
CEO Les Hollander says: "We are proud to bring Breakbeat Media, a premium and authentic Hip-Hop podcast network, to market. With our ability to connect audiences and brands at scale we are able to support Dave Mays and Kendrick Ashton in their vision to create a platform of authentic voices to serve the global Hip-Hop community."
Dave Mays said: "I've had a 40-year love affair with Hip-Hop, and over that time, it has grown into the most important cultural force in the world. Podcasting is a fast-growing and influential industry that provides Breakbeat with the opportunity to develop and showcase a collection of distinct voices, perspectives and stories from the Hip-Hop culture. Our vision for Breakbeat is for it to comprehensively serve the global Hip-Hop community with the love, respect and authenticity it so richly deserves. It's great to be partnering with a powerhouse like DAX to help bring us to market."
Breakbeat co-founder Kendrick Ashton added: "The compelling stories, nuanced and sophisticated perspectives and inspiring history of Hip-Hop need a platform that unapologetically embraces the beauty, power and importance of the culture. Breakbeat, which will be at the front of the culture, will be that platform."
.