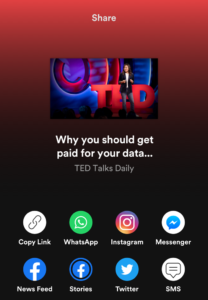 Spotify is potentially extending its global reach in podcast distribution in a collaboration with Facebook, which serves 2.8-billion monthly users (1.8-billion daily users). In this link-up, Spotify listeners can share a podcast episode on their Facebook news feed. Facebook does not have a native audio player, so listening to a Spotify podcast episode shared on Facebook takes the listener into Spotify.
To test this feature, we updated both phone apps (Android). Entering Spotify we chose a podcast episode (from the TED Talks Daily feed, for the record), and touched Share. We saw the new additions to Spotify's Share options: Facebook News Feed and Facebook Stories.
Sharing the podcast episode to our Facebook News Feed worked without issue. When we touched the Facebook post, after a short pause we did hear the podcast, but not in the open and running Spotify app. Instead, a link opened to Spotify's web app (open.spotify.com), and the podcast played there. Adding confusion to that seemingly unnecessary operation, we were not logged in to our Spotify Premium account in that instance of the Spotify web app, even though we were running the Spotify Premium app in the phone.
While the linkage didn't work optimally in this initial test, the main business point is not lost: Spotify is using a Facebook distribution partnership to potentially expand its reach in podcast distribution. Spotify serves about 350-million users across its Free and Premium tiers, about 12% of Facebook's reach.
.