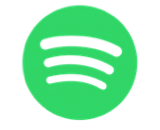 Spotify has acquired two companies, adding their talent to its product development and engineering teams. One purchase is Cord Project, which makes audio products for connected devices. The business' core product is Cord, a voice messaging platform for mobile devices and watches. The team will remain in New York and will be tasked with developing content experiences for Spotify.
Soundwave is the other acquisition. The Dublin-based company specializes in music discovery, with a social app focused on finding new tunes, sharing them, and connecting with fellow fans. After joining Spotify, this team will work toward improving the overall consumer experience for the streaming company.
"The acquisitions of both Cord Project and Soundwave give us the opportunity to bring two extremely talented and like-minded teams into the Spotify family," said Shiva Rajaraman, Spotify's vice president of product. "We're excited to welcome them on board, and are looking forward to their contributions in shaping the future of music engagement."
No financial details of the purchases were disclosed. These are the first buys we've seen out of Spotify in many months. Instead, the company's outward focus has been on partnerships, such as yesterday's integration with Starbucks or the news that it will be the in-car streaming choice for Tesla cars.