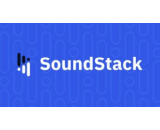 Audio-centric content delivery network SoundStack is announcing today the launch of automated royalty reporting for its member webcasters. Royalty reporting is one of the most arduous necessities in the small-webcaster business.
This first iteration of the new feature is specifically for SoundExchange royalties — those are the statutory rates for the use of recordings. SoundExchange is the collection body which collects the money and distributes it to record companies and indie artists publishing on their own labels. (Payments to songwriters and composers represent a different royalty slice paid in different ways.)
The reporting feature is built into SoundStack Insights, the platform's general data center for customers. The new technology solves two issues: effort, and accuracy — platform streamers will make their reports more quickly and without error. "Everyone is always looking for ways to reduce friction in their lives. Commercial and non-commercial broadcasters are no exception, especially when it comes to the tedium of reporting royalties," the company says.
---