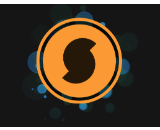 SoundHound released an upgrade to its Android app, adding the ability to throw a tagged song into a Spotify playlist. Long-time users will say "Finally!" to this app refresh, which brings the Android up to parity with SoundHound for iOS, which has been building Spotify playlists since February, 2014.
Observers of the music-tagging space can hardly take a breath before another press release arrives from SoundHound or Shazam, the two market leaders of song identification. Each company strives to be an engaging music ecosystem for discovering, listening to, and archiving music. SoundHound has a tighter relationship with Spotify than Shazam does, notwithstanding Shazam's recent announcement of Spotify listening from the Shazam app — listening, but not playlist building.
The music-collection function of automatically putting tagged songs into a dedicated Spotify playlist is valuable to Spotify subscribers. It's possible that Shazam's deepening Spotify connection lit a fire under SoundHound to provide Android users the same feature set that iOS users rely on.
SoundHound serves a global audience of 230-million users.