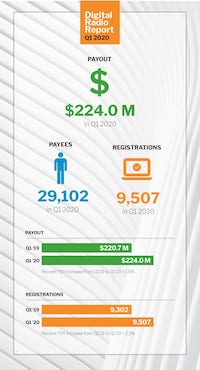 SoundExchange released its Digital Radio Report with details about its first quarter of 2020. The organization paid out $224 million in the first three months of the year, an increase from its Q1 2019 payout of $220.7 million.
The group worked with 29,102 payees during the period. During the quarter, SoundExchange had 9,507 registrations. That metric also rose on-year from 9,302 in the first quarter of 2019.
SoundExchange reached $908.2 million in total 2019 distributions. That figure marked a dip after its 2018 results received a spike from a settlement with Sirius XM.