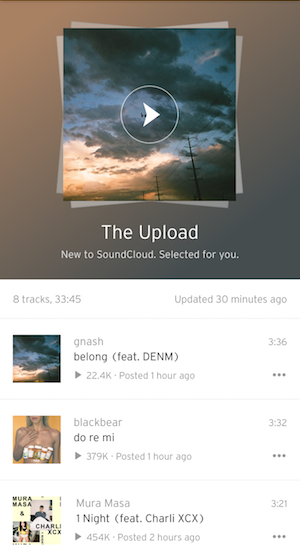 SoundCloud has introduced a new discovery feature for its members. The Upload is a personalized list of song recommendations. It's part of the service's Discovery section and it is updated daily. The selections are based on a listener's past track choices, and it promises better suggestions the more a person listens within the SoundCloud ecosystem.
Personalized discovery has become a near-standard feature for streaming platforms. Spotify made a huge splash with its Discover Weekly project, and Apple Music promises many targeted (and human-curated) playlists for its members. SoundCloud has been making many updates to its product as it moves to be a more direct competitor in the on-demand streaming space, and has added several discovery tools over the past year.
In announcing The Upload, SoundCloud did differentiate its product somewhat by placing some focus on its large audience of artists and performers who upload their work to the platform. "This new feature is another opportunity for creators on SoundCloud to get their music heard by our global community and a great way for listeners to be on the pulse of what's next, now," the company said in the blog post. Playlist placement is a hot topic in discussions about streaming, marketing, and artist relations.