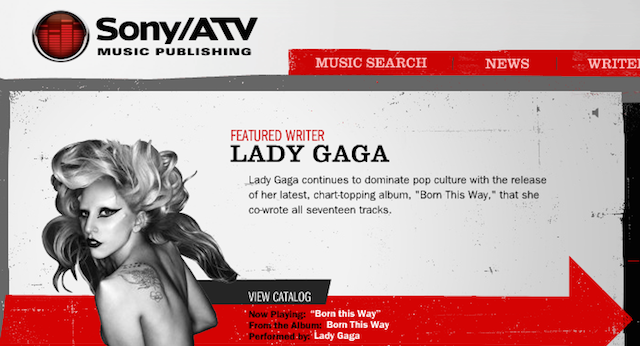 Sony/ATV/EMI announced that its complete catalog of songs is now visible on its website. "As the world's leading music publisher we want to ensure that existing users, prospective licensees and those with a need to access our extensive song list are provided with that capability," said Martin Bandier, the company's chairman.
That bit about 'prospective licensees' is key at this juncture. Following Bandier's statement earlier this week that the company might withdraw from the collective licensing arrangements of ASCAP and BMI, industry leaders predicted that this would be Sony's next move. Making the catalog available online would make it possible, in the right legal conditions, for Sony to split from the group negotiations and tackle the administrative work solo.
Leaving ASCAP and BMI would give Sony the ability to directly negotiate its digital rights deals with streaming services. Those rights are considered part of the collective licensing system that is currently under review by the Department of Justice, so this move puts Sony in a strong position no matter what the government decides.
Sony isn't the first big publisher to push out an online catalog. Universal Music Group announced last month that it would put its database on the web, although it is starting with just the U.S. properties. Whether these actions are just elaborate attempts to strong-arm a favorable ruling on digital bundling or a genuine interest in more control over their catalog rights is unclear. What is certain is that Sony and Universal are taking the potential of streaming, for power and for profit, very seriously.