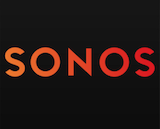 At the start of the year, annual tech show CES signaled heavy interest in at-home wireless speaker systems. The conference introduced several new brands and familiar tech faces into the mix. And that trend has indeed been an undercurrent of the music and tech worlds through this year as more streaming customers seek out ways to listen outside of a phone or computer's speakers.
Despite the arrival of more competition, Sonos is still one of the top choices in the field. Many music platforms have been allying with the company, with multiple big partnerships coming through even in the past three months. Most recently, Rhapsody announced updates to its current beta on the Sonos system. The changes include better audio quality, spotlighted content just for Sonos users, playlist browsing, and custom radio.
Apple Music launched its beta test on Sonos earlier this month, and Mixcloud also formally joined the party. It's also a platform for listening to Serial, via either Stitcher or Pandora. In the fall, Spotify announced updates to its Sonos service, with integration of its radio feature and improved discovery from the Sonos app. Amazon Prime also brought its music service to Sonos. The combined new entries mean that Sonos has an impressive array of home listening options available to its customers, which is one of the best ways for it to maintain dominance over any rival newcomers.