A new report from SNL Kagan estimates mobile (smartphone and tablet) entertainment revenue for 2014, breaking out the gaming, video, and music categories. Total mobile entertainment revenue was $9.1-billion, and music accrued $1.8-billion. (PDF here.)
Also included in the report is compound annual growth rate (CAGR) for each category, between 2011 and 2014. Music's CAGR was 53%, same as the gaming category. Gaming has nearly three times the dollar revenue of music.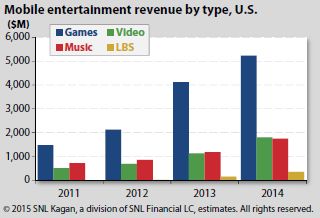 One interesting dimension that we haven't seen covered in other studies is the extent to which streaming music revenue has displaced and risen far above ringtone earnings. Ringtones seem like ancient history, but in a phone conversation with study author John Fletcher, he explained why they appear in his report. "I started covering the mobile entertainment in 2007, and at that time, ringtones were a big part of the music segment. As streaming music became popular, we continued tracking the ringtone business."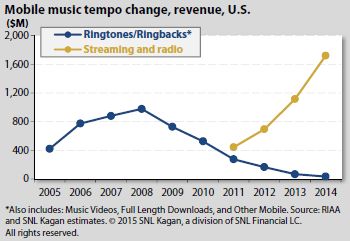 Music listening platforms included in the report include Spotify, Pandora, Muve, Rhapsody, Slacker, Rdio, eMusic, Beats Music.
Fletcher noted that streaming music attracted more attention in the U.S. market when Spotify opened its U.S. service in 2011. "You could argue that Rhapsody and eMusic were years ahead of their time," Fletcher said. eMusic started its subscribe-to-download service in 1998, and Rhapsody launched in 2001.
The SNL Kagan report does not contain future projections. But in discussing the future of streaming music revenue, John Fletcher observed that if 18% of the American population (317-million) signed up for music subscriptions at $10/month, the annual revenue of $6.8-billion would equal total music industry earnings in 2013 (going by RIAA numbers). On-demand music services are widely attributed to disrupt sales of music CDs and downloads.
The truth is that non-interactive services like Pandora, which operate ad-funded business models competitive with traditional radio, attract greater audience share than music subscriptions. Fletcher sees upside for both. "It's a rising tide. Both will continue to grow."
"We're in the early innings with digital media and mobile media," Fletcher told RAIN. "This is just the beginning."