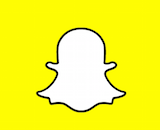 iHeartRadio is going social with its latest partnership. The online audio company has signed on with social media app Snapchat to be one of its featured Discover brands. According to Snapchat, it brought on iHeartRadio and BuzzFeed in an effort to provide more content variety to its users.
The Discover section of the app allows select companies to share "stories" made of images and text with Snapchat users. Most content that members share to Snapchat is intentionally removed from the platform 10 seconds after the recipient views it. The Discover stories remain on Snapchat for an hour.
This is an interesting new marketing angle for iHeartRadio, particularly for targeting younger listeners. It's also an interesting way for an audio platform to leverage social media. Twitter has long been rumored to have an interest in musical partnerships but never fully got any projects off the ground. It will be interesting to see if other musicians or music companies can find other innovative ways to work with social's current darling.