Integr8 Research is investigating the growth of smart speakers and their impact on radio. The latest publication indicates that smart speaker ownership could outnumber radio ownership by 2020. The prediction comes from a survey of 15- to 39-year-old contemporary radio format partisans.
The number of survey respondents who own an AM/FM radio outside their car fell from 48% in 2017 to 41% in 2018. Smart speaker ownership is posting an opposite trajectory from 14% in 2017 to 24% in 2018. Based on those rates, AM/FM radio ownership is projected to decline to 34% by 2020, while smart speakers are anticipated to rise to 41% by that year.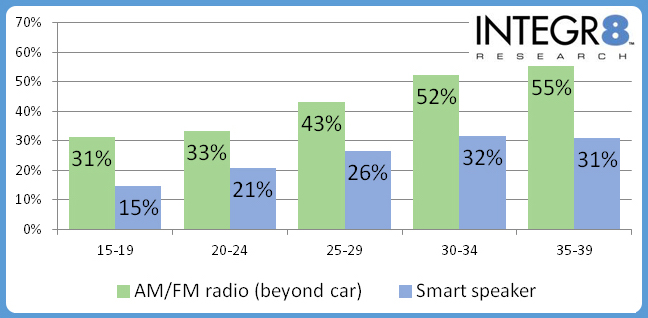 Although the survey pointed to a shift toward smart speakers in favor of radio, Integr8 noted a second trend. Respondents who didn't own radios outside of their cars were less likely to own any kind of smart devices. Among radio owners, half reported having a smart TV device and 31% said they owned a smart speaker. Thirteen percent said they had a car with Apple CarPlay or Android Auto. In contrast, just 41% of the respondents who did not own a radio said they had a smart TV device. Twenty percent said they owned a smart speaker and 10% owned a vehicle with Apple CarPlay or Android Auto.
The survey also asked what audio services the respondents used. Across the ages of the survey participants, all posted the highest rates for on-demand audio, topped by ages 15-19 with 77%. YouTube was the second-most common, again with 15-19 year-olds leading consumption at 70%. Pandora had a mixed set of results, with ages 30-34 posting 38% use and ages 25-29 posting 37%, while ages 15-19 had 28%.