As in previous years, webcasting inched backward in June by three percent in Triton Digital's Webcast Metrics Top 20 Ranker. Our analysis looks through the Monday-Sunday lens, 6:00am to midnight.
Across the top-20 cohort total listening dropped three percent from May to June. A slight decrease in May, reported a month ago, brought to an end a nine-month streak of webcast upticks.
In the key AAS (Average Active Sessions) metric, Pandora was the nominal loss leader — the market-leading Internet radio platform owns such a wide lead over the group that any upward or downward shift of a few percent (three percent in this case) represents a much bigger nominal change in session counts (minus 62,804 in June) than the remaining list combined.
The nominal and percentage leader in June webcasting was ESPN Radio, which spiked upward 26% over its May reporting (4,274 average sessions).
RAIN's leader chart, below, illustrates Pandora's dip, similarly shaped to last summer's listening decline, which bottomed out in July. The 2013 drop was related to Pandora's imposition of an hourly listening cap on non-subscription accounts — there is no cap this year.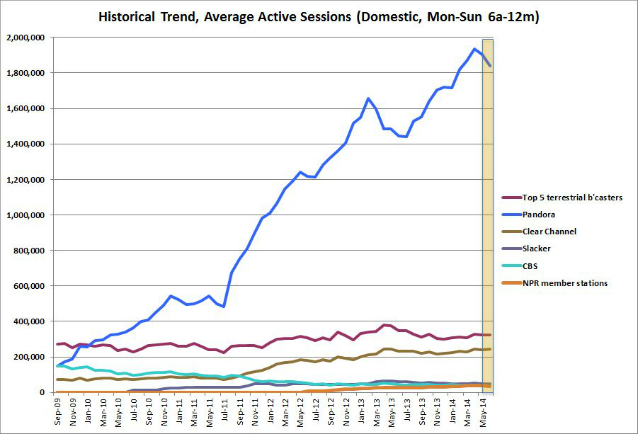 Year to date, AccuRadio is the percentage leader, with 16% growth from January, followed by ESPN's 15% gain. Greater Media webcast listening rose 10%. Pandora, Clear Channel, and Beasley streams have enjoyed seven percent growth during 2014.
Year over year, Triton's data indicate solid growth of 20%, or nearly 400,000 average sessions. (See below.)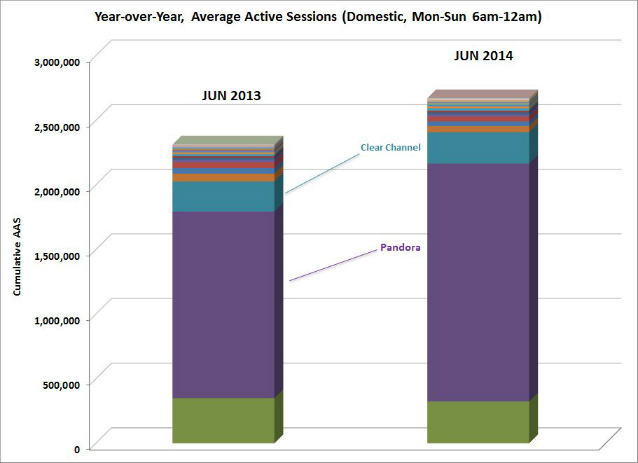 Triton notes that mobile listening continued its rampaging year-to-date growth, rising over 10% in the first half of 2014, compared to a three-percent gain for desktop listening (in the M-F, 6:00am – 8:00pm period).