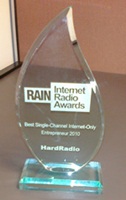 On September 9 in Indianapolis, a highlight of RAIN Summit Indy will be the announcement of five winners in the fifth annual RAIN Internet Radio Awards. Today we are pleased to introduce the semifinalists in the Best Single Stream Webcaster category, one of five which accepted nominations.
This extraordinarily competitive category honors pureplay webcasters programming Internet-only stations. Webcasters enter their own stations for consideration. Previous winners of this category have been Hard Radio (2010), HealthRadio.net (2011), RootHogRadio (2012), and The Blast (2013).
Congratulations to this year's semfinalists:
Thanks to all of our nominees. The RAIN Internet Radio Awards recognize the achievements and the best practices of the Internet radio industry.
RAIN Summit Indy is the premiere educational and networking conference for the Internet radio and online audio industry and a partner event of The Radio Show. Darren Davis, president of Clear Channel Networks, will keynote the event.