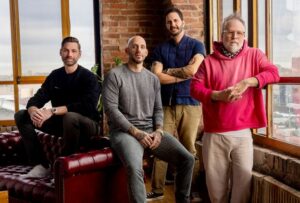 Music library platform Slip.stream, which contains over 100,000 tracks and sound effects, has obtained $7.5-million in Series A financing led by Sony Music Entertainment, Third Prime, and Lightshed Ventures.
Slip.stream joins an industry segment of music libraries in an addressable market of 22-million YouTube creators and 30-million independent creators who need audio assets for their creations. Slip.stream's mission is defined as: "The go-to platform for creators and streamers who need music for their content while creating new marketing and revenue opportunities for artists and musicians."
The funding arrives during a rapid growth phase for the Slip.stream team as three digital media veterans joined the company's team. Chris McDonald, formerly of United Masters and Epidemic Sounds, will lead business development as SVP. Shan Huang, most recently at Casper, will oversee Slip.stream's growth marketing efforts and Michael Feldman, manager of Fortnite superstar Clix, will steer the company's talent and influencer relationships.
We find Slip-stream to operate like competing platforms, allowing music searches by mood, genre, artist, and more. A key differentiator on the business side, is Sony Music's involvement, and that music giant's intent to explore opportunities for Sony Music artists within the Slip.stream platform.
Dennis Kooker, President, Global Digital Business, Sony Music Entertainment said: "We support Slip.stream's vision of building mutually beneficial ways for recording artists and the creator community to work together that deliver new recurring revenue streams and expanded reach for artists. Their leadership team has experience in music, and understanding and respect for the needs of artists in this developing space. We look forward to partnering with them to develop innovative opportunities for great music to flourish in more use cases."
Slip.stream has been operating for less than a year, and represents over 100,000 music creators. Live-streaming and gaming represent a segment of the platform's audience the company is particularly focused on.
"We are positioning ourselves at the nexus of music, gaming, and the streaming creator communities that are leading culture. A big part of our mission is to provide high quality music for these creators to integrate safely into their content, while supporting the work of artists," said Slip.stream CMO, Jesse Korwin.
David Carson, Slip.stream Co-CEO added: "Artists, labels, and brands are opening up to compelling new models that harness the power of the creator universe and we've been fortunate thus far to work with pioneers in the space like T-Pain and Riot. This funding will allow us to explore new partnerships and add more exclusive music content to further provide a great experience to our users."
.