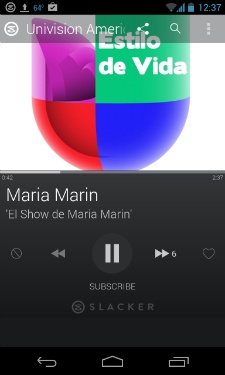 Univision Radio is the leading audio network for Hispanic America, and music service Slacker announced today a partnership that will bring some of that content to the online listening platform.
The expanded lineup plan includes five terrestrial stations based in Los Angeles, Puerto Rico, Miami, and Houston. Slacker will also introduce Univision America, a "Slacker-hosted and expert-curated channel featuring a mix of highly-coveted talk content." Univision America will be exclusive to Slacker Radio. Some or all of the live stations included in this partnership can also be found on TuneIn, but without the easy-to-find packaging that could draw Hispanic listeners into Slacker.
RAIN's update of Slacker's Android and iOS apps showed only Univision America available in Android, and all six channels in the Apple version. A new Univision menu item appears in both apps.
The exclusive Univision America channel is an important differentiator for Slacker, though cross-channel branding is confusing. iHeartRadio hosts a version of Univision America, with identical trademarking. Comparing simultaneous streams reveals different programming, but Slacker's ownership of a unique show is not evident in the first version of Univision America in its mobile apps.