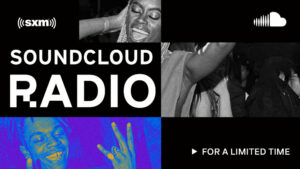 SiriusXM is launching a pop-up station called SoundCloud Radio, with a focus on hip-hop music and artists. That emphasis is aligned with SoundCloud's history as an influential showcase for new hip-hop artists.
SiriusXM is a SoundCloud investor, pouring $75-million into the Berlin-based company in February, 2020.
The curation of SoundCloud Radio will emphasize artists whose careers arose through the platform, including Megan Thee Stallion, Trippie Redd, Doja Cat, Lil Tecca, and NLE Choppa. New artists will also be featured.
"With The Lookout by SoundCloud driving new music discovery for artists we are hyped to be partnering once again with SiriusXM on the launch of SoundCloud Radio," said Caiaffa, Interim Head of Music, SoundCloud.  "The influence of SoundCloud's young, diverse community of artists and fans in breaking music is unmatched and SoundCloud Radio is one more way to share their influence and incredible talent with even more fans."
SoundCloud Radio starts today and will spin for one month. The web station for SoundCloud Radio is available to subscribers of the SXM App.
.