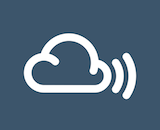 Mixcloud, a platform for creating and listening to DJ music shows, has released a breakthrough new feature for its Pro-level creators: Live streaming from a web browser.
Amateur, semi-pro, and professional DJs who operated on Mixcloud have used established streaming production workstations to create their livestreams. OBS and Streamlabs are the two best known programs. The new browser option removes that middle piece of software.
Mixcloud explains that the existing live-stream infrastructure by which creators appear all over the place — YouTube, Facebook, Twitch, and of course Mixcloud — is relatively old, and has two main problems. First, it is "clunky" in Mixcloud's opinion, and fairly difficult to learn. Second, the legacy methods often introduce meaningful delays that interfere with Mixcloud's ambition to enable live music collaboration.
Mixcloud's new tech uses the WebRTC (Web Real-Time Connection) protocol, same as Google Meet and Clubhouse use for real-time streaming audio conversations.
"Ultimately our goal is to build the best product for live-streaming music," the company states. As with existing methods DJs use to put their stuff on the platform (uploading and legacy live-streaming), Mixcloud takes care of royalty recognition and payments.
.