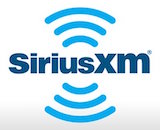 Sirius XM shared its Q3 financial results, complete with quarterly record revenue of nearly $1.28 billion. That figure rose 9% from third-quarter revenue of $1.17 billion in 2015. Net income for the period totaled $193.89 million, or 4 cents per share, up from $166.46 million, or 3 cents per share, in the year-ago period. Listener numbers also continued to rise for the satellite radio company, adding 345,000 net new subscribers in the quarter. Sirius XM posted about 31 million subscribers by the end of the period.
Following the quarterly results, Sirius has upped its guidance for the full fiscal year. It now anticipates net self-pay subscriber additions of about 1.6 million and total net subscriber additions of about 1.7 million. Annual revenue is projected at $5 billion.
The company's board of directors also announced its first quarterly dividend. The 1 cent per share of common stock will be payable on Nov. 30, 2016. Sirius XM is also in the process of a share buyback, with an additional $2 million in share repurchases approved. Its total repurchase authorization has reached $10 billion.
Satellite radio's royalty rates for the years 2018 through 2022 are going to be up for debate with the Copyright Royalty Board in the coming months. SoundExchange has already filed its request for a revised payment system. Sirius XM is the main company that will be impacted by this CRB decision.