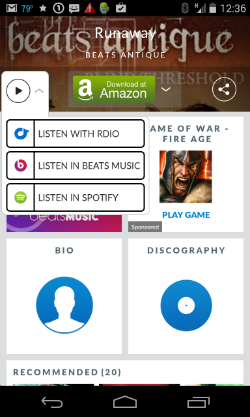 Market-leading music-identification app Shazam has added Spotify to its list of music services that will play full tracks identified by Shazam. The updated app can hook into Rdio (in a longer-standing relationship), Beats Music, and Spotify.
We cover each competitive thrust and parry of the music-ID apps, recognizing them as crucial funnels that shift listening from many real-world situations (including FM radio) to music services. They are popular, influential, and disruptive.
Shazam and SoundHound are head-to-head competitors, operating similarly, but each owning distinctive features. Shazam has long appealed to Rdio users with its connection to that service, last month adding in-app streaming of full songs via Rdio. (Before that, you needed to open the Rdio app.) SoundHound has been more aligned with Spotify, allowing not only song playback (outside the app), but automatically adding ID'd songs to a Spotify playlist.
That territorial stake-out — Shazam/Rdio and SoundHound/Spotify — has fostered a natural audience definition around membership in those two on-demand services. Shazam's addition of Spotify to its Listen Free feature is a nibble at SoundHound's lunch, but SoundHound retains an important and extremely convenient differentiator in the playlist function.