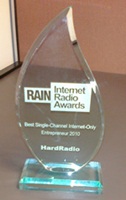 As we continue to reveal semifinalists in the Fifth Annual RAIN Internet Radio Awards, today we are pleased to announce five non-U.S. music services in the "International Excellence in Online Audio" category.
The single winners of all five categories will be revealed and honored at RAIN Summit Indy, September 9, in Indianapolis.
This category shines a spotlight on demonstrated excellence streaming-audio strategy in overseas services. (Overseas from the U.S. viewpoint.) Services enter themselvess for consideration. the category was started in last year's RAIN Awards, when the winner was Radionomy.
Congratulations to this year's semfinalists:
Mjoy Radio: A Ukrainian media company that operates several themed streams. It's flagship station is "Underground Bunker Radio" (Alt Rock).
andHow.FM: Started in the 1990s "from laptops and lawn chairs," andHow.FM now operates from New Zealand.
radiohhh.com: Three music channels here: RED (upbeat), BLUE (downlbeat), and WHITE (somewhere in the middle).
Karnaval: Turkey's largest Internet radio platform, started in 2012, now offering 18 curated online radio stations.
Irish Radio International: the newest semifinalist in this category, featuring music and spoken-word content for Irish folks living all over the world.
Thanks to all of our nominees. The RAIN Internet Radio Awards recognize the achievements and the best practices of the Internet radio industry.
RAIN Summit Indy is the premiere educational and networking conference for the Internet radio and online audio industry and a partner event of The Radio Show. Darren Davis, president of Clear Channel Networks, will keynote the event.