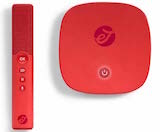 Roxi Music announced that it is pursuing an IPO for the fourth quarter. The UK-based company makes Roxi, a set-top streaming music device and remote control. It has selected Arden Partners as its investment bank while it works towards listing on the alternative investment market of the London Stock Exchange. Roxi is currently anticipating a valuation of £50 million.
The company and its physical/digital hybrid product have taken a winding path to this point. The business was originally called Electric Jukebox, and although its name has changed, it's still touting the same group of celebrity endorsements such as Robbie Williams and Sheryl Crow. In its present iteration, Roxi Music is promoting a message of bringing families together around shared music listening. It launched Roxi in the U.S. in September 2017.
The Roxi product retails for £99.95. The initial purchase includes a free year of access to its library of more than 35 million songs, and the ongoing subscription costs £5 a month.