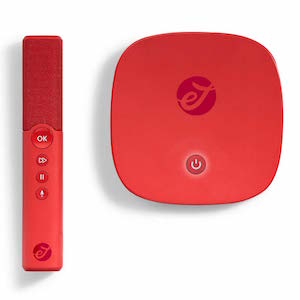 Electric Jukebox has been quiet for several months, but the company and its unusual approach to streaming music is back with a new product.
The UK-based business originally entered the scene with a gadget-heavy approach to streaming. The two-piece system included a USB dongle to plug into a television and a remote control wand. The premise was to make streaming simplified, with fewer choices intended to make for a less overwhelming experience. The debut raised some eyebrows, enough that the Electric Jukebox was delayed and only launched in the company's home market.
Now, the company has a second product called Roxi. This system is still a standalone set-top device and remote control, but the pitch is now about entertainment and music to be shared by the whole family. It now seems less like a Chromecast and more like a Roku. The content available on the Roxi includes 29 million tracks, karaoke features, music games, and radio stations.
Roxi costs £199 for the physical product. The purchase includes one year of the Premium Music Pass, which will run you £52 annually once that free trial is over. The website doesn't list U.S. prices, but other outlets are reporting that the Roxi will be sold stateside.
It's still difficult to gauge who will actually be investing in Electric Jukebox's vision. To offer such a single-specialty device seems counter to the present trends and consumer needs, with most living room entertainment tech offering a more comprehensive, one-stop-shop approach. Even the new smart speaker segment seems to have crossover with Electric Jukebox's potential audience. The simplicity argument indicates that the company is targeting a less tech-savvy demographic, but it does still require set-up over wi-fi or ethernet, which doesn't seem any easier than starting a Pandora station or picking a Spotify playlist.