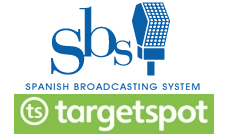 In a major alignment of forces in the streaming audio advertising realm, TargetSpot announced that it has reached agreement with Spanish Broadcast System (SBS) to be the exclusive third-party representative of SBS streaming inventory. SBS owns and operates 17 radio stations in top U.S. Hispanic markets, and the AIRE Radio Networks content creation and syndication company.
"SBS has been an amazing partner in the past and we are very happy to become closer," said Thierry Ascarez, Chief Business Development Manager at TargetSpot. "They have strong brands and the most dynamic and innovative strategy in terms of digital audio, TargetSpot is proud to be part of that strategy. The Hispanic consumer is young and connected, and music is central to their lifestyle and culture."
That's for sure, according to a mid-2016 study by Oh!Panel cited by today's announcement. The average U.S. Hispanic listeners spends 2-3 hours a day with streaming audio, the research discovered. Advertising works well in that population, with 69% of survey respondents claiming to have bought products pitched to them in streaming audio.
TargetSpot will bring what it calls "the most advanced targeting technology to the service of SBS. The result for TargetSpot is one of the largest footprints among Hispanics in digital audio, a reach of millions across multiple devices.
"With this announcement, we emphasize our commitment in growing our strategic partnership with TargetSpot," noted Eric Garcia, the Chief Radio Revenue Officer and General Manager of SBS New York. "SBS, throughout the years has consistently led the US Hispanic marketplace with proven and revolutionary audio brands inside the space. Our aggressive digital strategy has continued to play a vital role for our present and future growth."