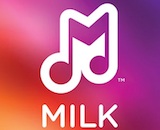 Samsung-owned streamer Milk Music has extended its service to New Zealand. Samsung made the announcement in its quarterly earnings call. The territorial expansion follows the company's February announcement of its Australian launch.
Milk Music also operates in South Korea, as of October.
Milk Music is ad-supported Internet radio. The service added an ad-free premium plan in July. Milk got its start last March as a mobile listening platform specifically for Samsung Galaxy phone users. Last month, Samsung expanded its potential audience by enabling the service in web browsers.