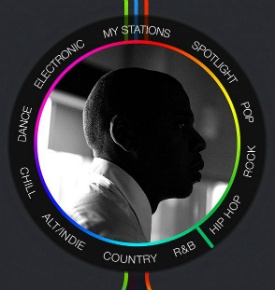 In a very interesting, potentially impactful maneuver, Samsung has launched a new streaming music service. Called Milk Music, the mobile-only app does not require any sort of registration or payment, and is ad-free. The music is reportedly powered by Slacker, which owns the relationships with rights-owners, and the original interface was built by Samsung. Milk Music is available as an Android app only to selected Samsung phones, of which there exist about 200-million on the street.
The RAIN office eagerly uses Android, but is not equipped with a Samsung phone, so we take our guidance on this service from this Engadget review. The user experience has a few unique points, particularly in how an artist-based station can be customized. In a general way, Milk Music hews to the standard template of on-demand listening platforms. There is a genre directory to get you started, and you can create customized streams based on a band or song.
The most remarkable aspect of Milk Music, and one that separates it from Samsung's existing service (Music Hub), is the elimination of any sign-up. Users may optionally connect Milk Music to their Samsung accounts — doing so carries preferences across multiple Samsung devices owned by the same person. That's an unusual case, though, since Milk Music is not released (yet) to Samsung tablets, only phones.
The instantaneous performance provided by Milk Music makes it more like traditional radio than normal sign-up platforms like Pandora — even though Pandora fashions itself as a new type of radio, it lacks the just-turn-it-on quality that AM/FM offers to everyone. Once registered, though, one service is as speedy as any other.
Releasing a service exclusively to existing customers is generally a user-retention tactic. Certainly, free-and-easy listening, without commercials, adds a compelling feature to the user experience of Galaxy phones, and is a selling point for Samsung. The unanswered question in the crowded music-service field is whether Milk Music will pull people away from other services.